Spanning across five sites totaling over 80 acres, The Woodlands Innovation District is optimally positioned to meet the needs of companies focused on in-house manufacturing (from biopharma to industrial biology), as well as contract development manufacturing organizations (CDMOs).
Build new, optimized for today's standards, with move-in as early as Q3 2024.
Fast & Flexible
Accelerate Your Speed to Market
Entitlements in place to allow build-to-suit shell delivery by Q3 2024
No zoning review required
60-day permitting review process
All sites served with power, water, and gas utilities
Tailored To Your Needs
Fully customize your build-to-suit facility or campus
With over 1M SF of potential, The Woodlands Innovation District provides tenants with unmatched expansion flexibility
Facility sizes for tenant needs ranging from 40,000 to 200,000+ SF
The Woodlands Innovation District is located in the rapidly growing cluster of life science research and development and biomanufacturing in The Woodlands, anchored by Cellipont Bioservices, Millipore Sigma, VGXI, and KBI Biopharma, among others. The dynamic environment and amenity base afforded by The Woodlands provides the ideal backdrop for life science companies and their workforce.
Community
Highlights
#1 Best Community to Live in America (2021, 2022), Niche
#1 Best Place to Buy a House in America (2023), Niche
#1 Best Place to Raise a Family in Texas (2023), Niche
Over 2,400 Employers, including 200+ Restaurants
220 Miles of Hike & Bike Trails and 151 Neighborhood Parks
28% (7,709 Acres) of Open/Green Space
Regional Medical Hub with Five of the Top Medical Providers
World-Class Shopping, Dining and Entertainment with International Sporting Events
Top-Rated Schools from Pre-Schools to Undergraduate and Graduate Degrees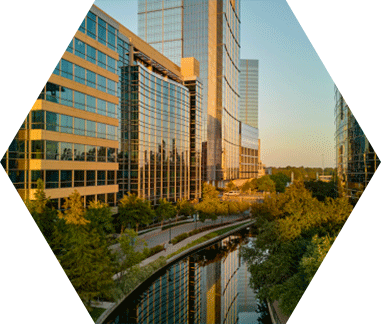 Contact us
For inquiries or more information, please fill out the form below.